Chimney Inspections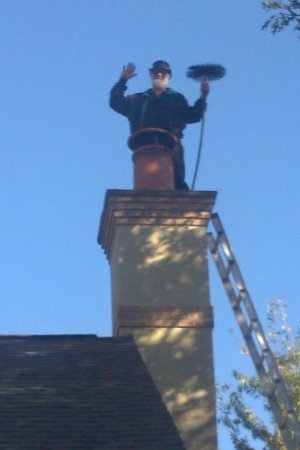 Levels of Inspection
In 2001 the National Fire Protection Association (NFPA) established three levels of inspection. These would provide homeowners with a standard level of care given different circunstances. In this way homeowners can be certain that their desire for a reliable fireplace system can be assured. You can find out more information about levels of inspection here and at the Chimney Safety Institute of America;CSIA.org .
When your Swift Services chimney professional comes to your home, ask him which level of inspection is your standard of care.
Level I Inspections
When:

Regular maintainence
No changes to the system
Please look at the circumstances for a Level II. If none of them apply then then a Level I Inspection is right for your system. This is the standard of care for those who already are up to date on the condition of their system.
A Level I Inspection includes all readily accessible areas of the system. If one can walk up and look at it without using a tool, then that area is included. Swift Services will usually include looking in the basement. Attic areas are often included. Unless the chimney top has special access needs, Swift Services usually inspects this area also. When doing a Level I Inspection we limit the scope to the part of the system being serviced. However, we will alert you if we feel there is a need to expand the inspection.
Click Here to Schedule an Inspection.
Level II Inspections
When:

Property transfer and home sales
If intending to change the system

Adding gas logs
Installing an insert; wood, gas, or pellet
Upgrading an appliance, more heat, etc
Changing Fuel, wood to gas, gas back to wood, etc

Sudden events

Chimney Fire
Weather related damage, ie tornado, lightning, or wind
Seismic or Earthquake events
A Level II Inspection encompasses all the accessible areas of the system. Basements, crawlspaces, attics, and the chimney top are all included. A video camera is always used in a Level II Inspection. We want to examine the interior of the entire flue, from top to bottom. We will inspect the flue with our high tech camera before sweeping. Sweeping the flue is often needed to better see the condition of the flue. If it is needed, sweeping is included during the inspection process. If merited, we will put the camera through a second time. If a chimney top requires special access we may ask an additional fee. Some chimneys have more than one flue, perhaps a fireplace and a heater. We inspect on a per flue basis.
Click Here to Schedule an Inspection.
Level III Inspections
When:

Whenever a Level II Inspection is not enough to determine the extent of damage or special condition.
This level of inspection encompasses concealed areas. Suppose your attic has a dividing wall that doesn't allow us to get to the chimney. Perhaps a strange material was used which needs to be identified. Any situation where the structure must be damged to obtain access is an occaision for a Level III Inspection. This level of inspection is not common. There is usually some special circumstance that calls for it.