Smoke Chamber Repairs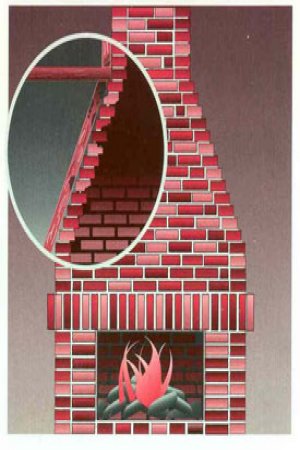 What is A Smoke Chamber?
A smoke chamber is the section of a fireplace system just above the damper and before the beginning of the flue. It is either a dome or a pyramid in shape. It's purpose is to funnel smoke from the fireplace into the flue, up, and out of the chimney. Brick smoke chambers have reclined walls so the chamber tapers to meet the flue. To achieve this, the bricks are stepped over (corbelled) at each successive course. This stepping, left un-parged, creates turbulence in the chamber. The turbulence gives resistance to flow which increases residency time of the smoke. If the smoke stay in the smoke chamber longer, then it has more time to change to creosote. Whenever flow is decreased, draft may also be decreased. So not only will the smoke chamber become dirty sooner, so will the entire flue.
Repairs to the smoke chamber usually entail filling voids between bricks or parging (coating) the walls with high temperature mortar. Sometimes all that is needed is to seal gaps or open joints. Sometimes we are trying to smooth the walls to reduce turbulence and improve flow. Other times we are trying to improve clearances to combustibles.
SmokeTite
If we are only trying to seal joints or openings we use the SmokeTite system. This system uses compressed air to shoot the material onto the smoke chamber walls. While chiefly used to seal openings such as cracks or joints, it can build up to some degree to smooth walls if needed.
ChamberTech 2000
For smoke chamber walls that need thicker parging we use ChamberTech 2000. As it's name implies it is suitable for 2000 °F. This makes it applicable to both heavier parging and to improve clearance to combustibles. In fact, the manufacturer says that when a 1 and ½ inch thickness is applied, that "combustibles can be touching the masonry ". We think that is pretty impressive.
How Serious Is It?
It is very important to seal the smoke chamber, to create an airtight connection between the firebox and the flue since this area is where many chimney fires find their way to the framing of the house.